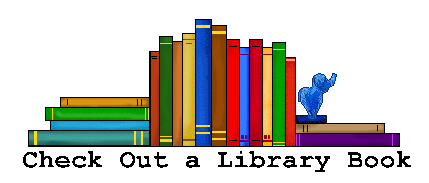 Your child's library book will be due the day before his/her actual library day. Please help your child to be responsible and to return their book on time. Please find a safe place where the book will remain clean and in good condition.

There will be a fine for late books and a charge for lost or damaged books. Students will NOT be allowed to take books out until their book is returned and the fines are paid. The fine for a late book will be 25 cents a week. The charges for lost or damaged books will be the price for replacing the book.
Congratulations to our Good Library Citizens: The following students received the Good Library Citizen Award for 2019 for exemplifying what a Good Library Citizen should be. They always took good care of their books AND returned them on time every week.

Kindergarten:

Rateb A.

Sophia B.

Mia C.

Hiliana C.

Emily D.

Avery E.

Lucas G.

Liam H.

Angel L.

Vince O.

First Grade:

Santi M.

Emilia N.

Makayla V.

Second Grade:

Liliana B.

Laylah B.

Vinny B.

John C.

Tommy F.

Bella G.

George M.

Trevor M.

Teagan O.

David O.
Thank You Parents!

We had over $2,700 in sales at our book fair.

AND

You donated $51.00 for the library, which helped get more books for our library.

THANKS!!

All the sales allowed for each teacher to pick out books for their classroom library to the tune of $450.00.
Our students are excited to have Magna-Tiles in the library. The Magna-Tiles were donated through donorschoose.org. This is a website where teachers can post items they would like for their classrooms and anyone can donate money to help fund their project. One of my students last year asked if we could have Magna-Tiles in the library. Thanks to some wonderful donors, we do now!! They will be enjoyed for years to come.